Better ffetish clips for September. Wonderful feet, soles, toes will satisfy your wildest fantasies
1.
Footsie Tootsies - Katie Cummings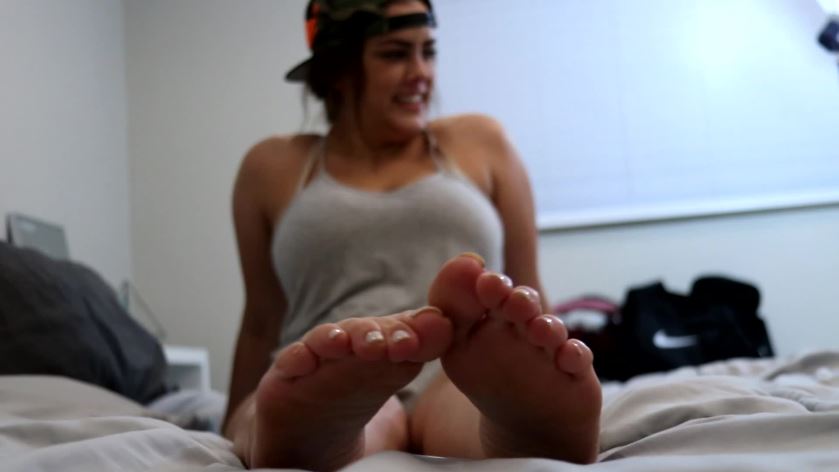 Katie is back with a little chit chat about her feet and other sexy things about her! She's loads of fun!
2.
Dreamgirls in Socks - Monica's Perfect Control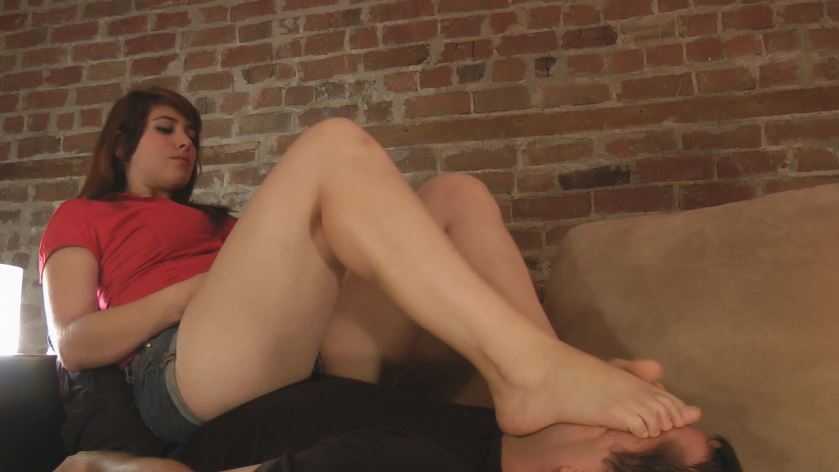 3.
Foot Fetish Dreams - Lucky Fj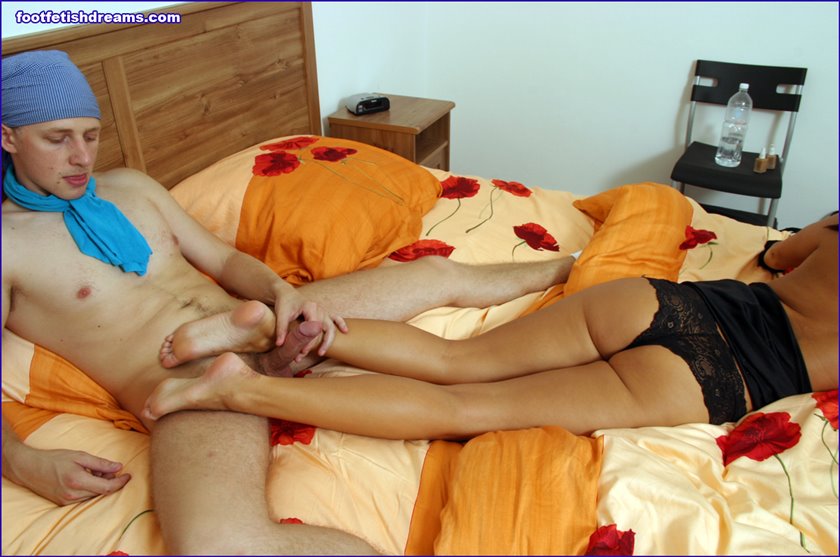 4.
Czech Soles - Double trampling, stomping and POV humiliation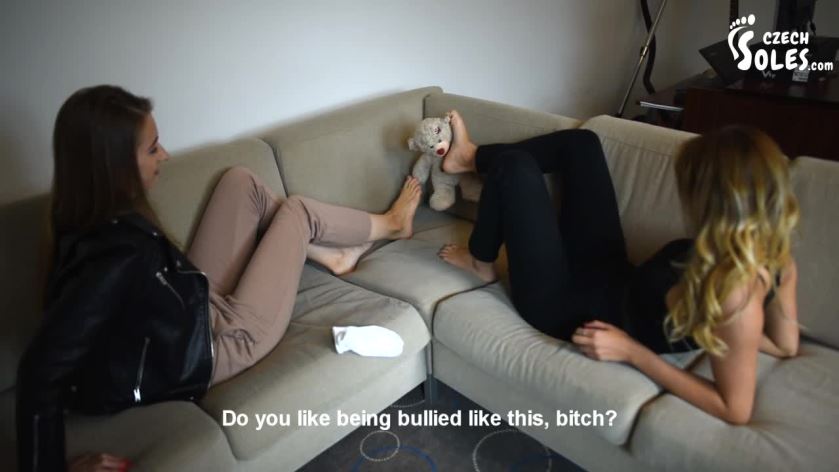 Megan and Daniela knows you were spying on them when they were in the shower and they want to give you what you deserve. Now they did a little video to let you know what's coming to you. But instead of you, there is a teddy bear on the scene. But whatever these two mean girls will do to him, that's what they will to you next time they'll see you, so watch carefully. They will beat you up, humiliate you and make you their doormat! They will talk dirty mean and humiliating stuff in your face, tell you what a looser and bitch you are. Than, they'll drop you on the floor and kick you, stomp you, trample you, smother you and humiliate you like never before! They'll smother you with their dirty smelly socks and feet. You'll beg for mercy while they'll be standing on top of you laughing at you and calling you their bitch and a looser who gets beaten by two pretty young girls! You will suffer until they decide it's enough. But that's gonna take a loooong time believe it! And then, you'll be barely breathing and crawling at their feet in pains begging for their mercy! So now watch what they video taped for you!
5.
Under Sweet Weight - Linda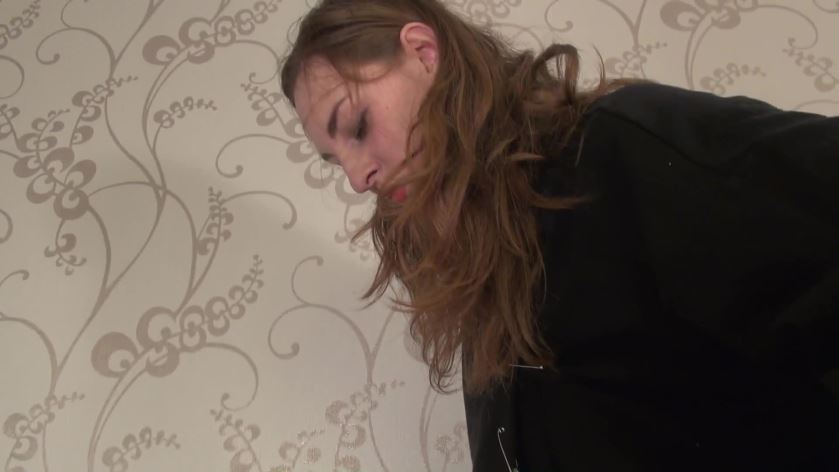 Meet new beautiful amazon goddess Linda! She is 6 ft. (182 cm) tall and weighs 152 lbs (69 kg). She has lovely huge size 11US (42EU) feet. Linda come from dirty street and her brown leather boots need to clean up. She use her pathetic slave like a doormat. Linda stands on him fullweight and wipes dirty soles of her boots on his white T-shirt and face, She forces the slave to lick and kiss her boots. Linda is very ruthless goddess. She enjoys to suffer and humilate her slave, jumps and marches on his chest. (English subtitles).
6.
Russian Fetish - Tickling Competitions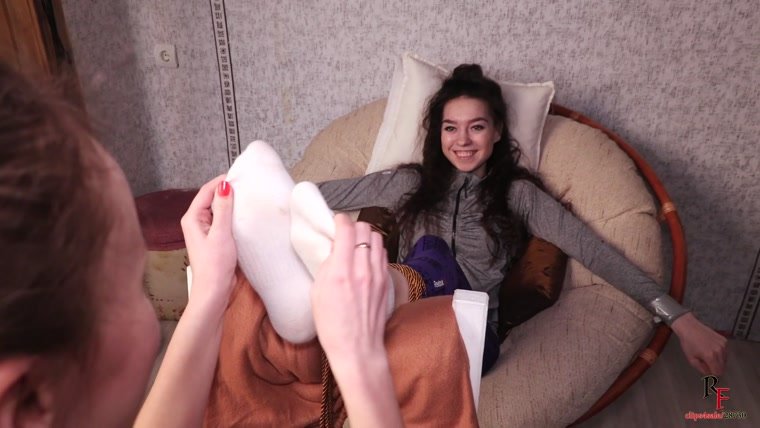 Models: Albina and Anita
7.
Herrin Adriana - Latex Footjob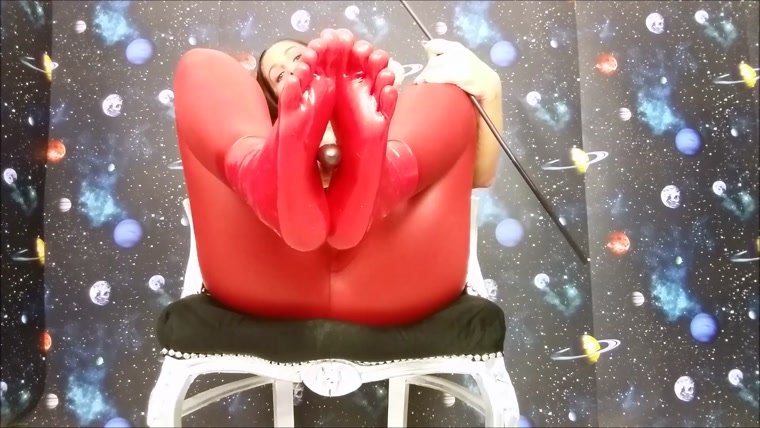 8.
Coed Feet - TJ
TJ is wearing her short skirt and heels to your office. She plans on having you sniff and stroke on her feet for a good grade
9.
FMUK Foot Fantasies - Vicki
Vicki's Tickle Audition. I really must get this girl back for a a more thorough tickle session!
10.
Dreamgirls in Socks - Cassandra's Jerk Off Advice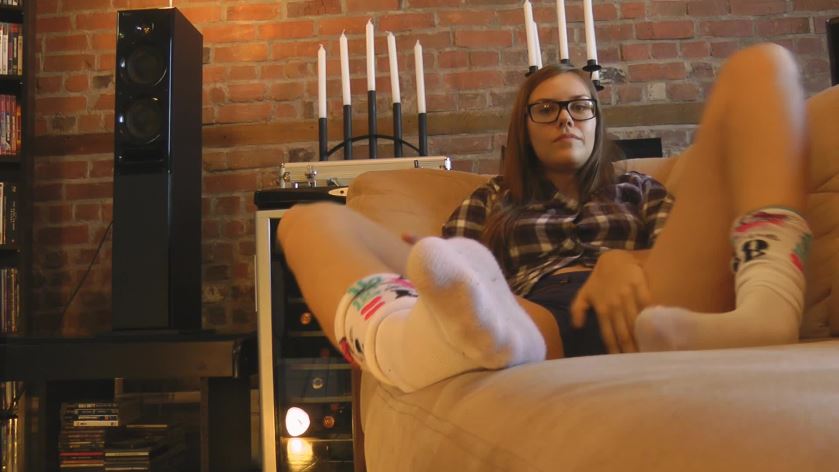 11.
Under Sweet Weight - Vicky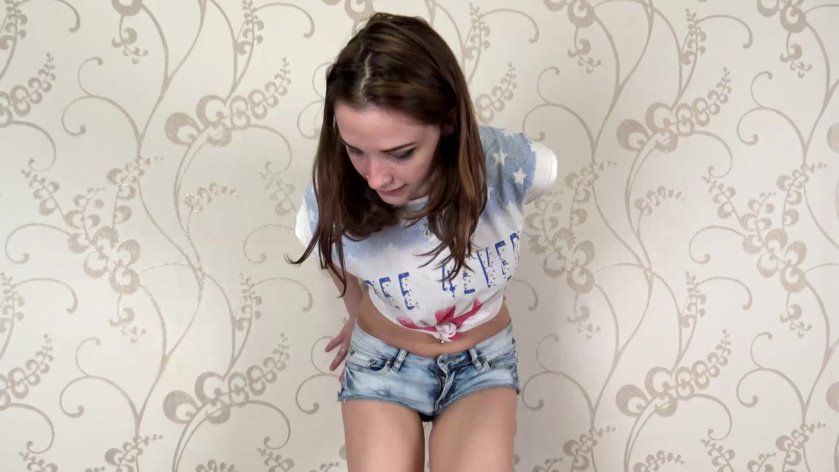 Vicky is 19 y.o. real life sadistic bitch with sexy size 9 US (40 EU) feet. She is 6'0'' (182 cm) tall and weighs 121 lbs (55 kg). Vicky is wearing extremely short jeans shorts with top and black flats. She tramples her slave without mercy. Vicky stomps his chest, head and belly, jumps on him very brutally. She is really mean girl, who likes to torment pathetic men.
12.
Fucked Feet - Redheads Have The Best Feet!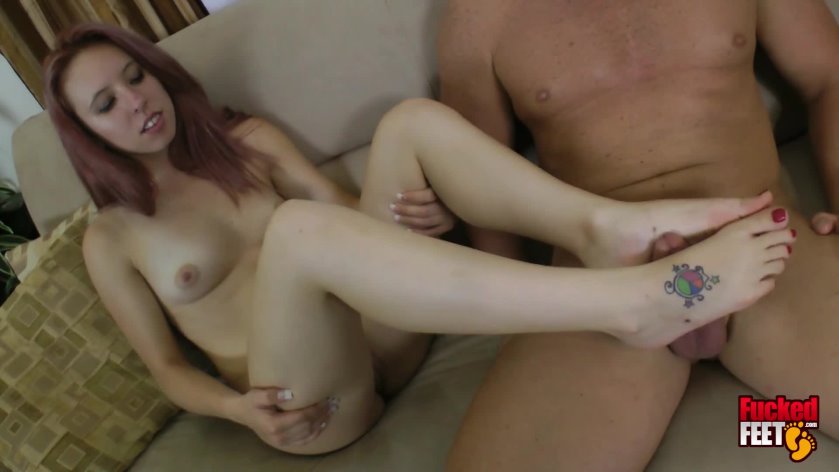 I've said it before, and I'll say it again. REDHEADS have the BEST FEET! Their creamy smooth fair skin and soft wrinkled soles are truly amazing. 20 year old, Sofie Carter is no different. She has super soft size 7 feet and outstanding wrinkled soles. Sofie also does a great toe point that makes her soles wrinkled up really well. She also shows you her feet in the Pose Position. Sofie is pretty new to the scene and I'm sure we'll see a whole lot more from her. Ah yes!! Now I get to lick soft moist redhead feet!! Her soles are extremely wrinkled and with deep wrinkles, no less. Sofie is just 20 years old and a relative newbie but she loves having her feet licked and toes sucked. You'll get to see her get her feet worshiped in the Pose Position as well as in various other positions and camera angles. Redheads really have incredible feet! Then, comes her FOOTJOB. She's just 20 years old and has size 7 feet with super deep wrinkles and very high arches. Sofie learned really quickly how to give a great quality footjob! Great stroking action. I licked her soles while she played with my cock and once hard, she rocked my world with an excellent stroking action and motion. In the end, I exploded all over the tops and bottoms of her feet and she then holds them up for the camera. Another winner, guys!
13.
Dreamgirls in Socks - Silvana's Sweaty Feet Challenge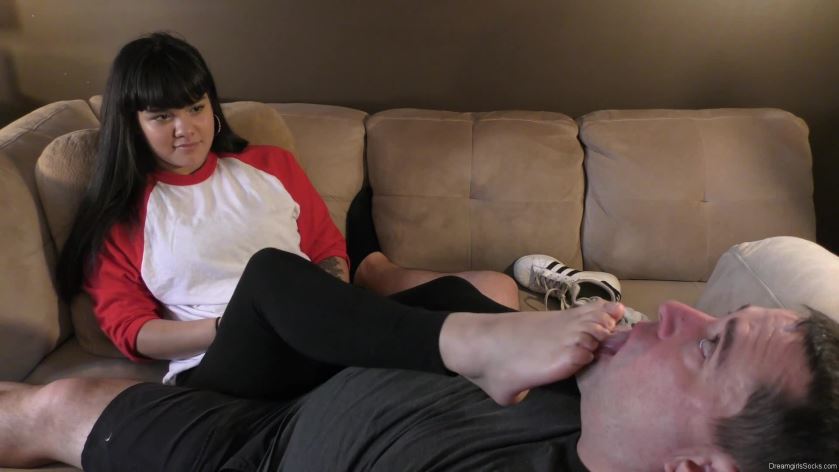 14.
Goddess Foot Domination - Goddess Brianna - Fun With Hubby Post Workout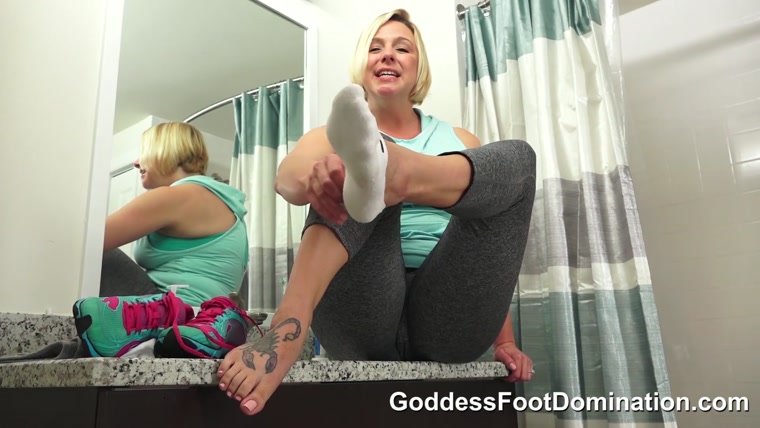 Goddess Brianna has worked up quite a sweat from this morning's workout. Her husband catches the last part of her bending and stretching and gets an immediate erection. He wants to put it to good use, but Brianna says she doesn't have time. But she can clearly make time for what she wants, and what she wants is to tease.
15.
FMUK Foot Fantasies - Sarah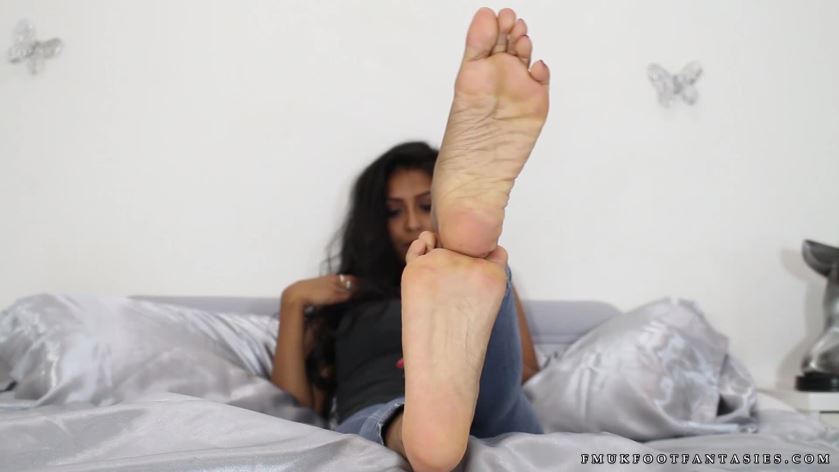 More from one of my favorite and most unique girls,the amazing Indian model Sarah!
16.
Under Sweet Weight - Alina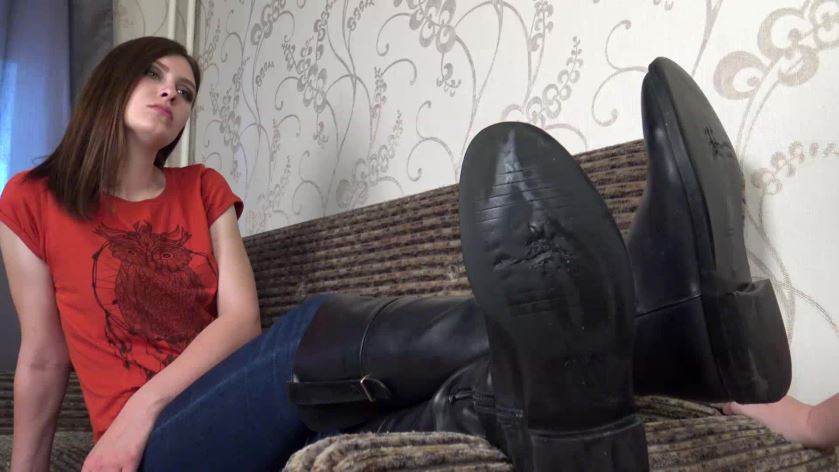 Alina is 19 y.o. amazon with big beautiful size 10 US (41 EU) feet. She is 6'1'' (186 cm) tall and weighs 155 lbs (70,4 kg). Alina is wearing blue jeans, red T-shirt and black leather boots. She is sitting on a sofa. Alina calls her slave and orders him to lick her dirty boots.
17.
Asian Sole Domination - Taiwanese size 8.5 Soles at park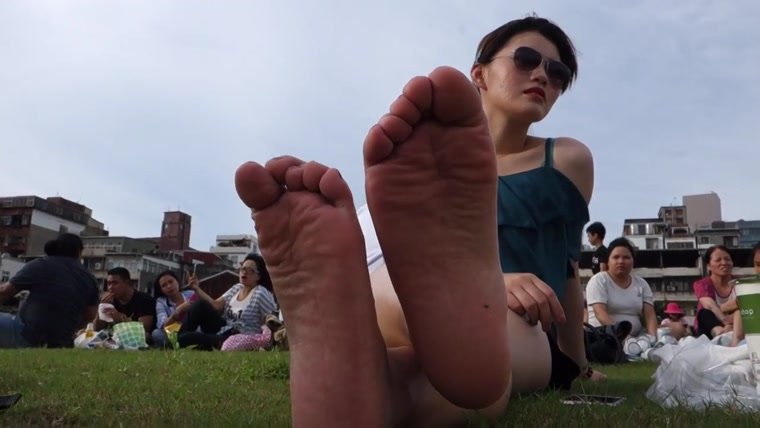 Beautiful shaped soles, she allowed me to film em.
18.
CuccioloPage - Dorothees Clip first time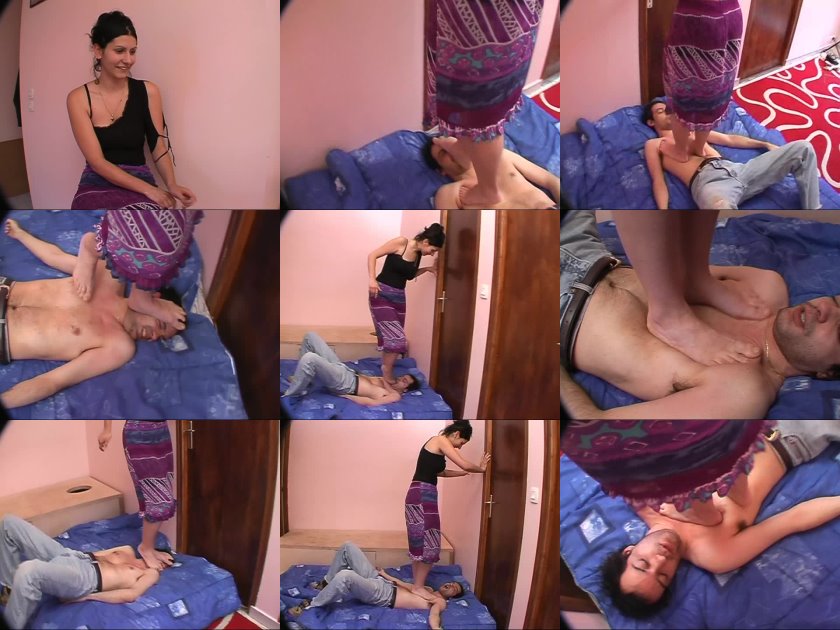 19.
Dominant Femine - Zaneta On Hard Rock Chair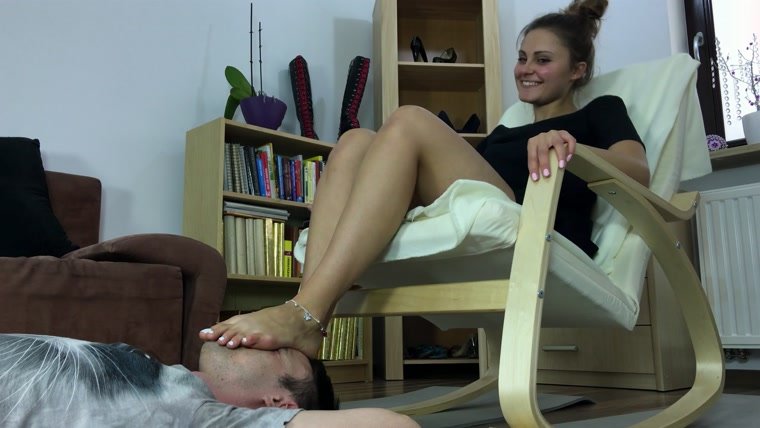 Zaneta is on a rocking armchair. Under her feet is a man. She is using his head to rock. Her feet Cru.sh his face and give her a lot of fun.
20.
Real Bare Soles - Ultra Gorgeous French Arab Gal
I don't just catch soles in the park! Over on the other side, the library every once in a great while yields results too. Usually not, because there's not really anywhere to sit, although some of you may remember the Russian girl who smoked a cigarette and peeked at me as I shot the soles of her feet while I was, err, sitting on the sidewalk? lol Well this time it wasn't necessary, as this girl was perched up near the defunct fountain called "Truth" on the north side of the library entrance (it's supposed to have been fixed and be pumping water again, but I haven't seen those fountains pump water since I was in my 20s). She was reading a magazine in French, but she has very Arab looks, and is devestatingly beautiful. And is sitting in a place where I can sit on the steps going up the the fountain and shoot some footage! The only problem was, at this time of day the sun sort of dances around the front of the library, sometimes leading to less than ideal lighting, but fortunately I was able to shoot enough of her that I got tons of well-lit sole exposure. Just look at that face, my God! And to see the face and then see those highly arched, soft soles with some occasionally quite frisky footplay, and I dare you not to fall completely in love with her! Her feet, about size 8, are gorgeous and shapely with adorable little toes. She was wearing a pair of herringbone Vans with white socks, but not while she was reading her magazine! The greatest thing was, this ABSOLUTELY BEAUTIFUL girl knew exactly what I was up to and gave so many sly, suppressed smiles as I shot the video. At first when she saw the camera she looked around and had a facial expression like, "WTF?" but soon she seems to have realized I was admiring her bare feet and that seemed to be fine. She was pretty playful and I think performed a little when she saw she was being filmed, although when I was walking along the terrace and first saw her, she was doing this exact kind of foot play. I know that showing bare soles is an insult in Arab culture, but this girl is a modern and forward-looking as they come so I think she was definitely NOT flipping everyone the bird by having her soles way up in public like that. Several guys hovered around her as I shot -- I was FAR from alone in coming over and getting a look at her beautiful face and sexy bare soles, but I absolutely captured the best memories of them!
21.
Space City Soles - Certified Bunny Foot Tease - Niki Lee Young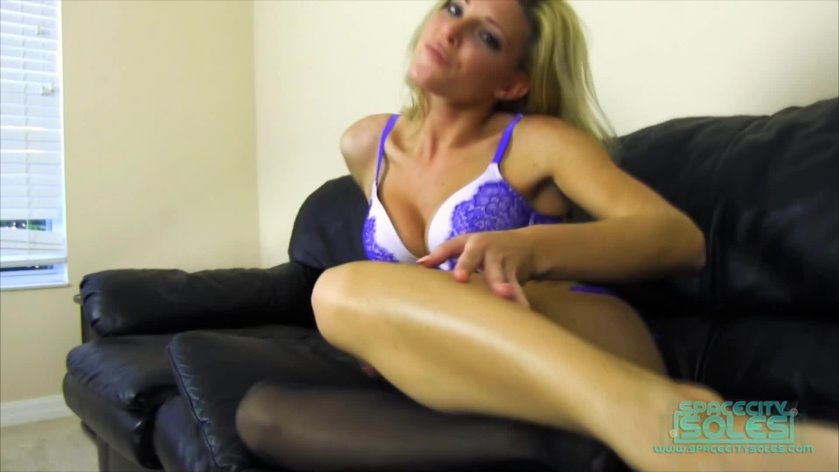 22.
Dreamgirls in Socks - Cassandra's Financial Control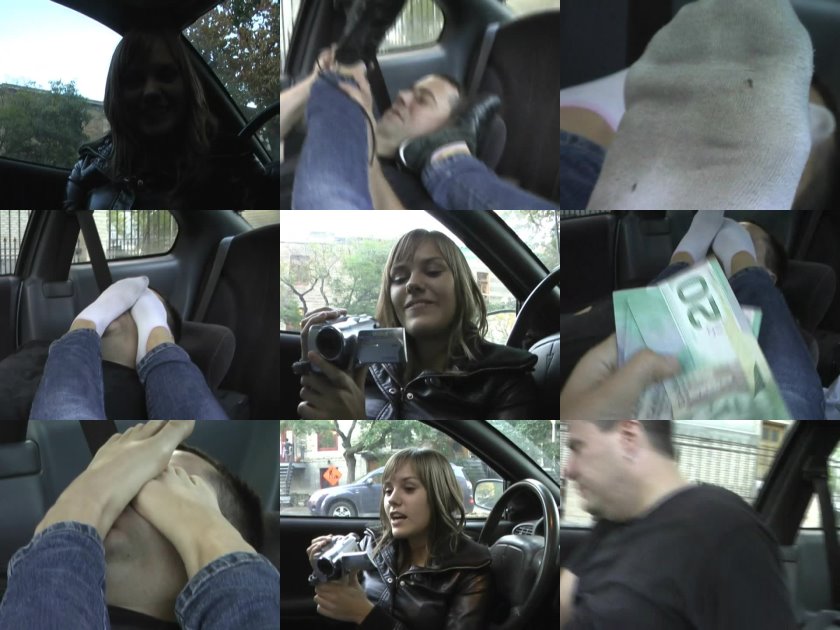 23.
Real Bare Soles - Ravishing Russian
So then this happened.I always thought that "Ice Cream Bar" would be the ultimate candid sole tease. That girl, kind of intrigued by my peculiar interest in the soles of her bare feet, held them up and wriggled them all around as she gazed with curiosity into the camera. The whole time you could see she was thinking, what is that stranger going to do as he sits in his home and watches this video?" She seems to feel the sensitivity of her own naked soles as the camera takes them in. Remember her?Well, this Russian girl, who is STUNNING, is not so innocent! Does anyone understand human nature better than a Russian girl? And they're beyond being angry or offended by it -- they have this kind is wry amusement about the foibles of humanity.So I'm on the lawn and it's close to the end of the season and I'm feeling sort of depressed that the lawn's been closed so much, and girls have been keeping their shoes on so much, that the number of clips I've shot is lower than in many years, and I look over and see a SHIMMERING mane of blonde hair, a pair of large, gorgeous feet up, each delightful toe bearing a splendid pearl polish, and my brain starts spouting all these OMG OMG alerts. Stop what you are doing and get in front of her. And I could do that because there was a space, although at the beginning there were a pair of cubicle drones whose feet I basically had to sit on in order to get this angle. After a few moments though they must have got up and left although I didn't notice, so intent was I on looking into the viewfinder. As I was walking by the girl (I'd seen her from behind at first) she was talking into her phone, then disconnected, so I think she was leaving someone a voicemail. She was speaking Russian. Based on where I was sitting and then of course the camera, it seemed clear she knew what I was up to, and she gave the slyest looks into the camera! When I saw her face I almost had a heart attack because she is FUCKING GORGEOUS. And her feet are across-the-board amazing as well, about size 9.5 or so, incredibly curvy, with some nice wrinkling when she flexes them, which she did at lot! As I passed her I noticed that her legs went on for ever and ever.At first when I pointed the camera at her soles, holding my breath and hoping to GOD that she would keep her feet down, she just sort of had her ankles crossed in a kind of passive, generic way, and would just peek at the camera with a little smile on her face. Then after a few minutes, I guess when she realized I wasn't going to do anything crazy and was just going to sit there recording this amazing sight, she relaxed and had some fun with me. She is so beautiful that she must get TONS of attention from men, and I think a man just sitting there and very, very nonchalantly filming the bottoms of her bare feet might have been a first for her and probably very funny -- and then there's that Russian amusement at the silliness of human nature as well. She began wriggling her big gorgeous feet around in the camera, often looking down with a laugh on her perfect lips! And this went on and on, although sometimes when she was texting she would momentarily forget to tease me with her sultry tootsies. I sat there transfixed and as excited as it's physically possible to be! It seemed to go on and on but then the teasing reached a real fever pitch -- it really seemed to her to become even funnier, and with a smile on her angelically beautiful face those bare soles wriggled and flexed all around like she was trying to fly! At one point when she was texting she slipped her sunnies back on, I assume because she couldn't read her phone screen because of sun glare. Once those sunnies came down, her flirtatious sole wriggling really began ... I can't even describe it, you just have to experience it.But all good things, and even all AMAZING things, come to an end. Finally she laughed -- almost audibly -- and bent her legs, pressing her soles against the chair (lucky chair). She sat there looking at me across those endless legs of hers, a wry smile on her face. I stopped shooting and then just sat there to see if she would put her feet back down, but her time in the park was over -- she put her avocado colored socks, then her big pink chucks back on, and off she went, straight past me, walking so close in fact that she almost brushed my shoulder and I got to experience her expensive, amazing perfume, which was completely intoxicating. I'll call her at LEAST five foot ten. This playful, wry Russian superbeauty will be etched in my mind ... forever.
24.
Feet Jeans - Josephine